1st round - (OT) Antonio Garcia 6-7 305 lbs, Troy: Garcia looks like a very good athlete at LT. He did not give up a sack this year. Garcia has the frame to easily put on 10 lbs. Garcia is not a dominate run blocker, but he would be an upgrade in pass pro at LT or RT.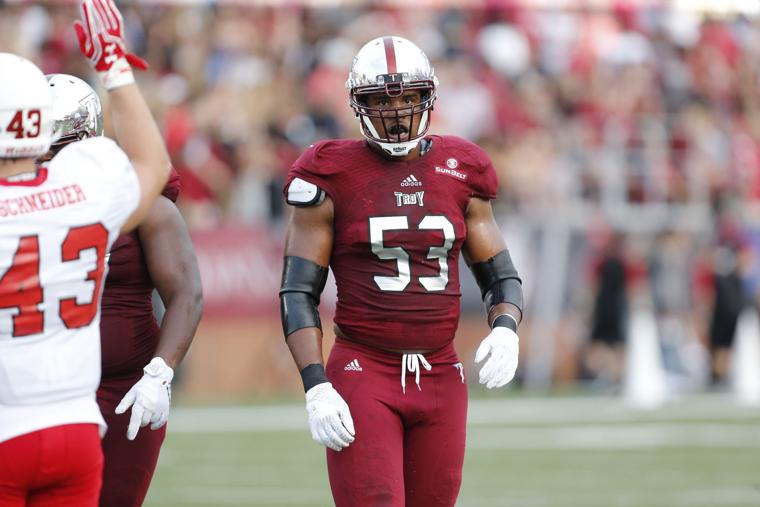 2nd round - (WR) Noah Brown 6-2 220 lbs, Ohio St: Brown is coming out as a red-shirt sophomore, with minimal production. He has shown flashes of brilliance as a WR! He has the celling of former Cowboys WR Michael Irvin. Brown has great body control to go up and high point the ball on off errant balls. In the highlight he showed outstanding route running that resulted in a TD. IMO WR is not a need but, Brown has immense potential to be a legit #1 WR in the NFL.
Oh yeah, he can also be physical with a former 1st round LB.
3rd round - (DE) Daeshon Hall 6-6 270 lbs, Texas A&M: Hall has the size and length that the Seahawks like. He has the frame to easily bulk up to 280, and could be a nice option to kick inside to DT on passing situations.
3rd round (comp for Irvin) - (LB) Alex Anzalone 6-3 241 lbs, Florida: Anzalone is a 1st round talent, but due to shoulder injuries he slides in the draft. If he can stay off the IR he could be the next Clay Matthews...Coach Carroll would make the most out of Anzalone's athletic ability making him a dynamic force multiplier on the defense.
5th round (comp for Sweezy) - (RB) Joe Mixon 6-1 226 lbs, Oklahoma: Mixon is a 1st round talent, but due to his off the field incident a couple of years ago I see him falling to the later rounds of the draft. Mixon's combination of size, speed, and power fit what the Seahawks covet. At this point of the draft he is worth any kind of backlash they will get from the national press.
6th round - (FS) Cody Brown 6-1 205 lbs, Arkansas St: Brown looks to have great range and he has the ball skills that coach Carroll likes.
7th round - (CB) Brendan Langley 6-1 190 lbs, Lamar: Langley was a four star recruit coming out of high school. He went to Georgia for two years before ending up at Lamar. This year Langley had 6 interceptions, 7 pass breakups, and 2 TD's on punt returns.