Here's my final mock of 2020. We'll see how things shake out, but a few notes before we go in:
* Per the pre-draft presser, JS acknowledged that a major factor this year is whether or not the guys they select will be able to get to where they need to be in their development with an abbreviated/condensed offseason. This would seem to indicate that they're going to be putting more stock into the mental intangibles and makeup of prospects than in previous years, continuing and expanding on the Strong-Tough-Reliable draft philosophy.
* It's been reported that they're already trying to get out of the first round. They're likely to try to leverage their capital to be centralized as heavily as possible in day 2, as that's where the sweet spot of this draft appears to be.
* PC/JS commented on the offensive line, basically stating that they got the guys they were looking for at OL, and signed so many as to not make it a prohibitive need during the draft, allowing them to take players based on their overall grade rather than positional need.
* Seemed to indicate Finney is competing at center, stating that the "competition is on" for the position with Britt/Finney/Hunt. Also alluded to the same thing for Tre Flowers regarding the acquisition of Quinton Dunbar.
Generally, the players that Pete/John select have been visits. I believe it was Largent80 that stated 9 out of 11 draftees last go-around were players that visited. I expect that trend to continue - they'll have to rely on visits more than ever with the amount of incomplete profiles on prospects this year.
Here we go.
TRADE:
Seattle trades pick 27 overall to LA Chargers for 37, 112, and a 2021 4th Rounder.
Pick 37:
Ross Blacklock, DT, TCU.
SEATTLE MOCK JERSEY NUMBER: 90 (99 if Clowney signed)
Blacklock is a player that Seattle hasn't hidden it's interest in - it's probable that he's been on their radar since they started digging into Collier. They've visited with him twice - once at the combine, and again with a virtual visit on 4/17.
The medicals on Blacklock are just okay - he was down with an achilles injury in 2018, but in 2017 and 2019 he was fine, making that injury seem isolated. Overall, I'm not too worried about it.
Blacklock hails from TCU, meaning he'll have to adjust to an NFL defense. TCU runs a lot of stunts, and Blacklock was in a 4-pt stance on pretty much every snap. However, his physical tools are enticing. His motor is great, he plays with energy and pizzazz, he has dynamite power. He uses pass rush moves effectively to create pressure and push into the pocket to take away the QB's ability to step up away from the perimeter rushers, which theoretically makes things easier on our spotty stable of edge rushers. He's got a good first step.
His play recognition isn't excellent, but it isn't horrible either. He plays a bit high, but again, it's not egregious. This is a selection that can help the rush defense as well as the pass rush.
Big elephant in the room - Blacklock breaks the mold of a Seahawks DT. He's got sub-33 inch arms and a not-great shuttle. Collier was a mold-breaker too, though. Blacklock LOOKS like he fits at 3tech based on the traits he puts on tape, and Seattle has concrete interest in him that I honestly don't think is a smokescreen.
Overall - I think Blacklock has the highest probability of being the first player selected by Seattle. He may slip into the first round, and if he does, I think it's Tennessee who takes him. I'd be happy with this pick.
Pick 59:
Julian Okwara, Edge, Notre Dame
SEATTLE MOCK JERSEY NUMBER: 41
It's getting hard to find players with perfect medicals. Okwara missed the final 4 games of Notre Dame's season with a fibula injury. Other than that, his sheet is fairly clean, and a fibula injury probably won't affect him going forward. Moreover, Okwara said the right things in the face of his injury, and is a competitive guy with a good backstory and sound head on his shoulders.
Another visit. Okwara, as you can see, is a dude who has phenomenal length. He's got some twitch, and his long speed is great (4.53 in the 40, according to him.) Put up a fantastic 27 reps on the bench, which is even more impressive considering his long arms.
On the surface, his production is steady, but not great. He's not going to be a league sack leader. However, when Collier was picked last year, PC/JS mentioned pass rush win rate/pressure rate, which Collier excelled at. This indicates that they put a fair amount of stock into that metric, where Okwara shines. Okwara's pass rush win rate stood at a hearty 23%, behind only Chase Young and Josh Uche, who had 27% each. Over the past two years, Okwara's pressure percentage was 19.1%, which is the best, leading Curtis Weaver at 18.2% and Chase Young at 17.6%.
Couple that together with Okwara's plus personality, his length, and his strength, and I believe you've got the Seahawks primary target at Edge. The only thing I'm not sure about is that #59 is high enough to select him, but it IS a possibility. If Okwara is off the board, don't rule out Terrell Lewis or Jonathan Greenard as backup options.
TRADE:
Seattle trades 64 overall to Denver for 77 and 118.
Pick 77:
AJ Dillon, RB, Boston College
SEATTLE MOCK JERSEY NUMBER: 34
AJ Dillon is a big dude: 6'0", 247. Seattle hasn't shied away from big running backs in the past, such as Eddie Lacy and Bo Scarborough. They were rumored to have loved Derrick Henry, as well.
Dillon is no fullback, though - he's got 4.53 speed and a lumbering way of carrying the ball. It's hard to stop him once he gets going. Seattle needs a running back - you've seen the lengths to which they will go to hedge that position (Penny....). AJ Dillon in the third is about right, he's been a steady riser since his combine performance and is a workhorse type of back that can shoulder the full load should he have to do so.
He fits the identity the Seahawks want to have, and I think he's got a great chance of suiting up for the 'Hawks in 2020.
TRADE:
Seattle trades pick 101 and 118 to LV, in exchange for pick 91, 159, and a 2021 7th rounder.
Pick 91:
Leki Fotu, NT/1T, Utah
SEATTLE MOCK JERSEY NUMBER: 69
This isn't
necessarily
a "double-dip." Yes, Blacklock and Fotu are both defensive tackles, but Blacklock is a 3-tech and Leki Fotu is a big meaty 1-technique to replace Al Woods.
Fotu has a very powerful upper body and his hands have the type of power that his imposing frame would suggest. He can ragdoll less stout interior defenders, and unfortunately may actually vaporize Joey Hunt in practice should he be selected.
He's not just a run stuffer, he has legit ability to penetrate with an intense bull rush that can knock interior linemen on their asses. He has great burst out of his stance for his size. He's got a solid anchor and good (not great) two-gap ability.
I don't think he's a day-1 starter, but he's an excellent addition to a rotation that needs help defending against the run, and he has enough penetrative prowess to not be a liability on early passing downs.
Met virtually with Seattle, had a top 30 scheduled. The interest is there.
Pick 112:
Hunter Bryant, TE, Washington
SEATTLE MOCK JERSEY NUMBER: 84
Seattle has a lot of stop-gap talent and temporary talent at tight end right now, and they've been connected to Bryant through both a combine visit and an informal conversation with Schenider.
Bryant is a receiving tight end who can create matchup advantages for the offense as a move TE. He'll need to improve his blocking to ever develop into a #1 option at TE for Seattle, but I think you're drafting Bryant as a #2 guy who can develop a rapport with Russell in the pass game rather than a traditional do-everything-TE.
Bryant would end up being a Hollister replacement, and I think this is a fair spot for him.
Bryant was originally projected to go higher than this, but underwhelming testing and his lack of inline prowess have pushed him down the board a bit.
Pick 133:
Logan Stenberg, G, Kentucky
SEATTLE MOCK JERSEY NUMBER: 72
B.A.M.F.
Here's what I wrote in my earlier Hawk mock in December.
Stenberg is NASTY. Not "bad human being" nasty - he's likely going to interview well, and he's a guy who loves football, but this guy plays with a crazy mean streak. He lives solely to pancake, he drives guys into the ground, he plays with strength - he's a straight up mean b!@ch on the gridiron. If you give him a shot, he comes away with one of the starting guard spots I bet.
Since then, Stenberg's stock has cooled a bit. There are some legitimate concerns about his pass protection, but I believe that can be coached up. His run blocking is ridiculous. Had a decent week at the senior bowl. Seattle has shown interest with a combine visit. He fits in with the aura they want to have on offense. Seriously, he's a mauler. I don't think he ends up as a starter year 1 should he be picked by Seattle, but I wouldn't doubt that he'd win a starting spot year 2.
TRADE:
Seattle trades pick 144 to Miami for 154 and 246.
Pick 154:
Amik Robertson, NCB, Louisiana Tech
SEATTLE MOCK JERSEY NUMBER: 22
Robertson played for the Bulldogs, and he played LIKE a bulldog. He's always got that menacing look on his face, and he plays with LOB-style spunk. He plays pissed off.
Seattle took a virtual visit with him on 4/20, indicating some interest. He plays like a Seahawk on tape - tenacious run defender despite size limitation, has great coverage instincts and ball skills, and the stats back it up - 14 picks/34 pbu's.
He's tiny - 5'9" on a good day, 180 soaking wet, but he's built well and is tailor-made for the slot role. He's a perfect fit. I want him.
Pick 159:
Darnell Mooney, WR, Tulane
SEATTLE MOCK JERSEY NUMBER: 13
Mooney is fast!
That's about all I have to say about that. He's a deep threat wide receiver who has a good release off the line. Has some concentration drops on short passes, but we don't pass short, so perfect fit! Mooney ticks some analytical boxes, with a good breakout age rating and raw high-4.3 speed. More field-stretching danger on offense.
Negatives include his slight build and the aforementioned concentration drops. Very little special teams value, as well, so that's a definite negative - but at this juncture, should Mooney still be available, they may just go for the deep threat he provides.
No visit.
TRADE:
Seattle trades 214 and 246 to Chicago for pick 196.
Pick 196:
Davion Taylor, OLB, Colorado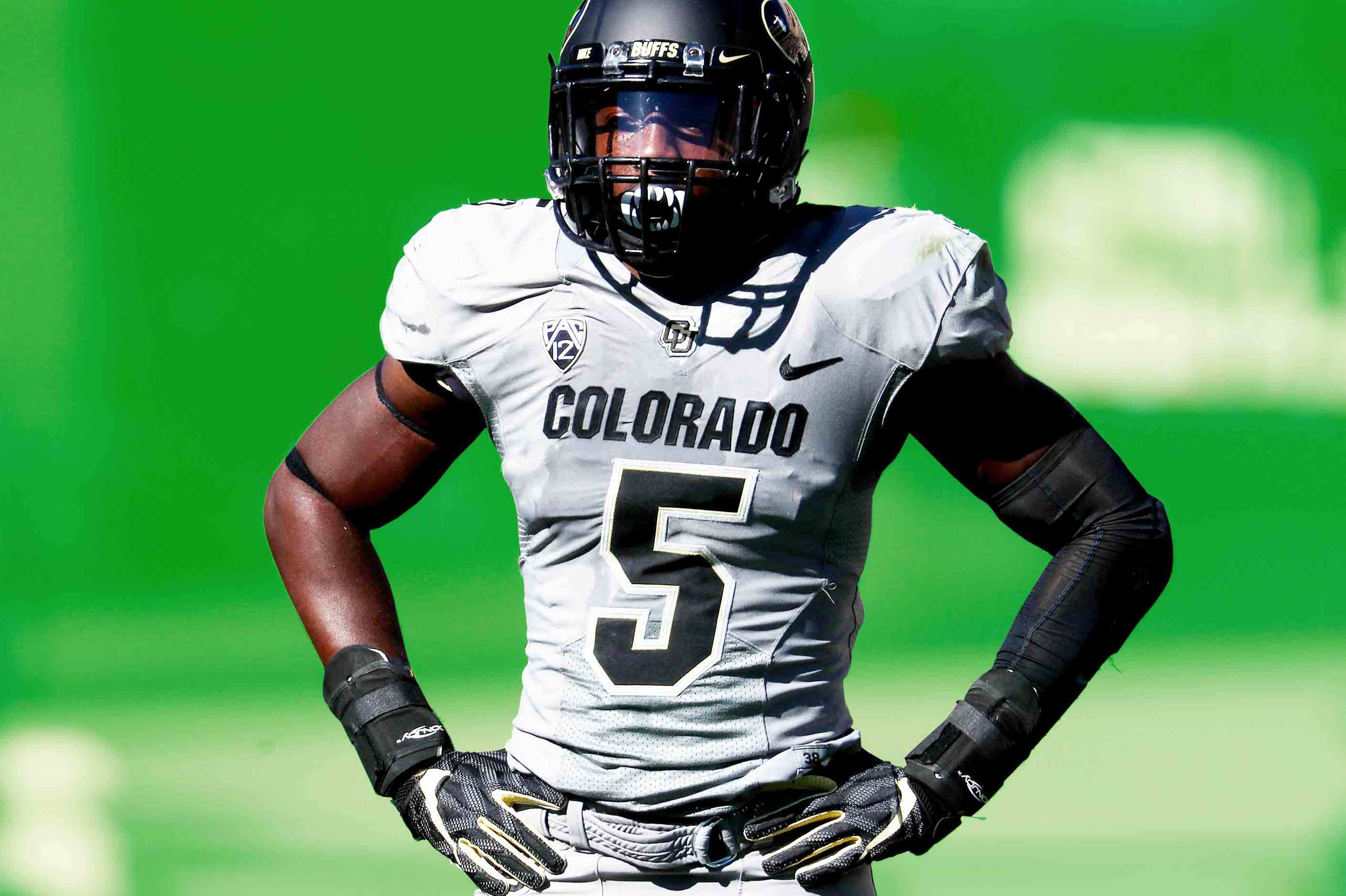 SEATTLE MOCK JERSEY NUMBER: 56
Davion is rising up boards. He's an undersized, speedy OLB with fantastic range - but he's raw and needs time to develop on a squad. He'll more than likely be relegated to special teams, in the mean time, but has a decent opportunity to break into the lineup as he continues to learn.
Davion has a unique backstory of perseverance. (link to full article:
http://www.nfl.com/news/story/0ap300000 ... -lost-time
)
The walk always began the same way, with a baked chicken breast, mashed potatoes and green beans -- a pre-game meal that never varied -- anchoring Davion Taylor's stomach like a rock. He never found it particularly tasty, but the alternative -- an empty stomach knotted with stress and pain and regret -- was no way to face the gut punch that awaited him at 5 p.m. every Friday, like clockwork, when he'd push open the exit door.

That's what time the South Pike Eagles would pour out of the cafeteria, all but one of them wearing game jerseys, and head left toward the locker room to brew anticipation for that night's game. And where their best player, Taylor, would instead bear right and begin his lonely walk home. A linebacker from the University of Colorado, Taylor has walked what might be the most unlikely path of anyone who will get selected in the 2020 NFL Draft. He got there walking home, and walking away from something virtually every NFL player has in common -- a high school football career.

He was forbidden from playing by his mother, because of her devout adherence to the 20th of 28 fundamental beliefs of the Seventh Day Adventist Church: observance of the Sabbath. Adventist doctrine doesn't permit recreational activities from sunset Friday -- when high school games kicked off under the lights in his hometown of Magnolia, Mississippi -- to sunset Saturday. Stephanie Taylor meant business when it came to keeping the faith, and that meant keeping Magnolia's best athlete at home on Friday nights.
Seattle loves stories like this, and Davion has come a long way. He'll have to come a lot further, but the tools are there, and I think his natural talent is worth a shot here at 196 as a developmental outside backer.
And that concludes 2020's draft. Seattle does a lot to add talent to their defense, gets a couple of offensive depth pieces, and if this is how it shakes out, I consider it a successful draft.