Normally I do these in January, but I decided to wait for the eve of free agency this year to add a greater sense of plausibility. I should warn you that these tend to be on the optimistic extreme of realistic. Not everything I'm suggesting might actually be possible.
_________________________________________________________
Goals:
#1: Diversify and improve the pass rush
#2: Add a clutch receiver that knows how to improvise, preferably someone that can play anywhere but shines the most in the slot (Doug Baldwin's spot).
#3: Solidify the weakside linebacker position
#4: Find a 3rd tight end or upgrade on Anthony McCoy for a deadly TE trio.
#5: Continue to churn talent in the secondary.
#6: Find a low cost read option capable backup quarterback to compete with Josh Portis
#7: Save money for future seasons and avoid massive long term contracts.
_________________________________________________________
Free Agency:
Cap space: $18.5 million (estimated). Includes $12.5 million in rollover cash.
Sign WR
Danario Alexander
(Chargers) to a 4 year, $15 million contract with $6 million guaranteed. (2013 cap hit:
$3 million
)
Alexander may have knee problems, but when healthy he is a fantastic receiver. He posted pro-bowl caliber numbers over his final 8 games last season. He's also 6'5" and fast (4.44 forty at his pro-day in 2010). Seattle needs quality depth for Sidney Rice, and even if Alexander doesn't see a ton of reps, he's a high value per rep player- similar to Golden Tate and Sidney Rice. That's ideal for a spread the football offense. Seattle can weather an injury to Alexander should he have one due to the depth of weapons at Wilson's disposal once this offseason is complete.
Alexander was #1 in the NFL last season in yards per target (Golden Tate was #2). Alexander had 7 TDs last season on just 37 receptions. He had a phenomenal 17.8 yards per reception last season and is at 16.8 yards per catch for his career. A natural born deep threat with height and jump ball ability, Alexander gives Seattle exactly what they need at a bargain price.
Because San Diego used the lowest RFA tender possible, signing Alexander will not cost a pick. Seattle must make sure to offer Alexander a contract with enough size and guaranteed money to scare San Diego away from matching. Since it's under new management, it might not take a whole lot. Poison pilling could be an option, but with Goodell you never know how he'd react to that, so I'd rather not risk it.
Sign DT
Desmond Bryant
(Raiders) to a 5 year, $25 million contract. (2013 cap hit:
$4 million
)
Bryant was is a very good but unheralded pass rush DT out of Oakland. He was recently arrested and his mug shot became an international sensation. He might be the best defensive tackle available, but it's very difficult to gauge his market value in a suddenly weak defensive tackle free agent class. He might get less than this, or he might get more. I split the difference and assigned him Brandon Mebane money. Bryant is enough of an upgrade over Jones to be worth this money, and I'd rather sign a moderate contract to a worthy player than risk a 1st round pick on an unknown commodity.
This move makes Jason Jones expendable. I'd be fine with giving him a very low contract, but I don't want to see our season derailed by another Jason Jones injury, and he's had a history with them.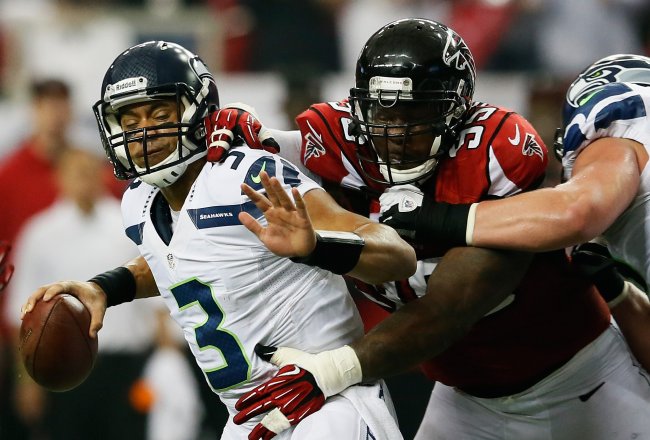 Sign DE
John Abraham
(released, no comp pick factor) to a 1 year, $1 million contract. (2013 cap hit:
$1 million
)
Abraham is 35 next season, but still can play at a high level. Interest in him has been minimal, and I think a 1 year veteran contract could certainly be in play, especially for a Superbowl favorite like Seattle. It's possible that the 49ers could get involved and generate a minor bidding war, but I can't predict that. Right now, Abraham looks like a really good player that will be playing on a 1 year minimum contract in 2013. I think at the absolute most, he might get 1 year $5 million, which I'd be willing to pay, but I don't think it will come to that.
Abraham had 10 sacks, 6 forced fumbles, and 7 batted passes last season. He once possessed speed just a shade below Bruce Irvin, and he still looks fast and explosive even well into his 30s. Seattle needs another pass rusher, and I'd much rather bank on Abraham as a rental than an undeveloped mid round rookie with Clemons being a real threat to decline or miss time next season.
Sign QB
Vince Young
to a 1 year, minimum contract. (2013 cap hit:
$0.825 million
)
Seattle needs a read option capable quarterback. There are only three of them in this draft, IMO. Geno Smith, EJ Manuel, and Matt Scott. All three will be gone before Seattle's 3rd round pick rolls around. Seattle isn't drafting a QB in the first two rounds, obviously.
That leaves free agency, and the picture there is far from ideal. Vince Young, Tim Tebow (if released), Troy Smith (UFL), Darron Thomas (CFL), etc. I chose Young because he has the most experience and has a winning record as a starter. He's not Russell Wilson, but I think he could be coached into being Colin Kaepernick. Young's attitude problems in the past probably kept Seattle away, but I think it's possible he might have grown from the adversity he's faced in recent years. This would be a probable short term arrangement ala Tarvaris Jackson in 2011. Vince Young backs up Wilson for one season, hopefully rehabilitates his career, and Seattle finds a QB in the 2014 draft, which will hopefully have a much deeper class of read option quarterbacks.
Sign K
Steven Hauschka
to a 2 year, $2 million contract. (2013 cap hit:
$1 million
)
Seattle needs a kicker. Hauschka has done a good job and isn't expensive. I see no reason to chance things.
Sign DT
Alan Branch
to a 2 year, $5 million contract. (2013 cap hit:
$2 million
)
Seattle needs depth for Red Bryant and Brandon Mebane, and they need a big 3-tech for running situations. Branch was essentially an average contributor last season after being a minor star in 2011 (PFF). Jacksonville might make a run at Branch and drive up his price. If not, I'd sign back Branch for a reasonable price.
Sign DT
Clint Gresham
to a 1 year, minimum contract. (2013 cap hit:
$0.7 million
)
You gotta have a long snapper.
Sign T
Frank Omiyale
to a 1 year, $1 million contract. (2013 cap hit:
$1 million
)
Impressed the crap out of me last year despite being terrible pre-2012. Just the latest in a long line of amazing reclamation projects by line coach Tom Cable.
Trade QB
Matt Flynn
to Cleveland for a 6th round pick. (2013 cap savings:
+$7.25 million
)
Flynn's contract and unproven status really hurts his trade value, but Cleveland has made it clear they intend to move on from Brandon Weeden and are sniffing around the likes of Buffalo's Ryan Fitzpatrick and Kansas City's Matt Cassel. I think it's likely they will also show interest in Flynn and Seattle won't say no to a chance to unload Flynn's $15.5 million cap hit over the next two seasons. An early 6th might as well be gold plated in this deep draft class, too.
Departures
: Jason Jones, Marcus Trufant, Leroy Hill, Chris Maragos, Cameron Morrah, Clinton McDonald
Notes
: I would sign Tony Gonzalez if Atlanta decides to "Favre" him by moving on and acquiring his replacement. I don't expect that to happen, but he's a player I'm rooting for to be a Seahawk. I also have us passing on Cullen Jenkins (with the Bryant signing). Finally, I'm saying no to Charles Woodson. There is enough interest in him that I don't think he'd come cheap enough, and I'm not sure where he'd play in our stacked secondary. I'd retain Maragos after the draft if the safety class falls poorly. I'd also trade Red Bryant if any team has serious interest- but I think it's most responsible to draft competition for Bryant and see how he bounces back in 2013. After the 2013 season,
none
of Bryant's salary is guaranteed.
Cap impact
: The Matt Flynn trade really helps take the bite out of this offseason, and despite handing out 8 new contracts, Seattle's cap number only drops by $6.275 million as a result of this free agency. You'd need to budget in about $4 million more to sign your draft picks. That leaves you with $8.225 million in remaining cap space even after signing the draft picks. That money will roll over to the 2014 cap. Since most of these contracts are short term, Seattle should be in strong cap situation entering the 2014 offseason which will be their first big wave of free agents to retain.
Having addressed Seattle's biggest needs in free agency, I'm no longer forced to draft certain positions earlier than I might want.
_________________________________________________________
The 2013 NFL Draft:
This is
my
draft in this specific free agency scenario, not what I think Seattle will actually do. All of these numbers after the 3rd round will change when compensatory picks are announced. Seattle has 3 additional picks from trades plus a 4th extra pick from my proposed Flynn trade (#133 (Curry), #166 (Flynn), #200 (T-Jack), #206 (Rudd) acquired via trades):
1st round (25th overall): Tyler Eifert, TE, Notre Dame
2nd round (58th overall): Ryan Swope, WR, Texas A&M
3rd round (85th overall): John Simon, DT/DE, Ohio State
4th round (122nd overall): Armonty Bryant, DE, East Central University Athletics
5th round (133rd overall): Zaviar Gooden, LB, Missouri
5th round (153rd overall): Denard Robinson, QB/WR/RB/KR, Michigan
6th round (166th overall): Earl Wolff, S, NC State
6th round (186th overall): Micah Hyde, CB, Iowa
7th round (200th overall): Cooper Taylor, S, Richmond
7th round (206th overall): Courtney Gardner, WR, Sierra College
7th round (217th overall): Abry Jones, DT, Georgia
Tyler Eifert, TE, Notre Dame
Thanks to a strong free agency, I feel that the team's biggest remaining need is upgrading the tight end position. Tyler Eifert isn't just a unanimous 1st round talent at tight end, he's the perfect fit for Seattle. Eifert stands 6'6", 250 lbs. His 4.68 forty time was the 4th fastest among all tight ends. His 35.5" vertical jump was tied for 2nd best. He's built to be a deep threat jump ball machine and it really shows on tape. He's extremely skilled at high pointing the jump ball and has strong hands. A jump ball pass to Eifert is extremely tough to defend on key downs and red zone opportunities.
A WR/TE hybrid "joker" type player, he's basically everything Seattle hoped they were getting with Evan Moore (and then some). For good measure, Eifert is also one of the better blocking tight ends in this draft and is versatile enough that his presence doesn't telegraph intent. Eifert is a weapon with his jump ball skills and body control. Russell Wilson loves to throw jump ball type passes. Seattle could use an upgrade over the talented but unreliable Anthony McCoy. Eifert would also make Zach Miller expendable if the team decides to approach for a restructure. An Eifert-Miller combo would be very tough to defend, especially with some of the weapons at receiver added this offseason.
I haven't talked about Eifert a ton on the draft forum, mostly because I doubt Seattle will draft him, but he's one of my favorite options at #25 and I wouldn't hesitate to grab him in the free agency scenario described above.
Ryan Swope, WR, Texas A&M
One of my favorite players in this draft. Swope is fast, has quick feet with change of direction ability, has hands that are strong and reliable, is a deep threat, runs extremely sharp routes, knows how to improvise for a mobile QB, is a great blocker and will lay players out if they don't watch themselves. His intangibles are close to Russell Wilson territory and you just get the feeling he's going to continue being very special in the NFL. His competitiveness, personality, and improvisational/quick skillset perfectly matches what Seattle needs in the slot. Swope has the size (6'0", 205) and speed (4.34 forty) to play outside as well.
John Simon, DT/DE, Ohio State
Simon will probably be drafted by a 3-4 team looking for a big/slow OLB, but at a playing weight of 270 pounds, I think Simon looks like he could pass mustard as a Jason Jones type DE/DT tweener in the NFL. He is extremely difficult to block with his supreme pass rush repertoire. Reminds me of a miniature JJ Watt or Justin Smith. Simon is a workout warrior and has coaches raving about him much the same way that Wilson did as he was leaving Wisconsin. Some might think he can't play DL in the NFL, but I wouldn't be the guy to tell Simon what he can't do. His work ethic and determination are legendary at Ohio State.
(horrible music alert)
Armonty Bryant, DE, East Central University Athletics
Bryant has fairly major character concerns and came from a division II program, but has the upside of a Jason Pierre Paul or DeMarcus Ware physically, coupled with a highly impressive pass rush repertoire and outstanding core strength. If he played for a major school and didn't have the character concerns, it seems likely to me that he'd be the #1 overall pick this year. Bryant may not have the speed of an ideal LEO, but he can get to the quarterback like few can and may even give Seattle a massive pass rush upgrade if he can manage the 5-tech role.
When asked about interest from NFL teams, the Seahawks were the first team Bryant mentioned.
Zaviar Gooden, LB, Missouri
The fastest linebacker in the draft, Gooden is a natural weakside 4-3 linebacker with 4.46 speed. He excels as a downhill type linebacker similar to Leroy Hill. He has the speed and explosive short area quickness to be a weapon in coverage. Massively underrated, Gooden might have upped his draft stock after a strong combine.
Denard Robinson, QB/WR/RB/KR, Michigan
The Michigan QB is one of the best natural athletes in the draft, running a similarly timed (4.43) and similarly smooth 40 time to Tavon Austin (4.34). Robinson is an electric runner with the ball in his hands, and I think it's silly how everyone is overlooking his potential as a change of pace running back. He's a project at WR, but could have high upside there as well as a YAC guy. Best of all, he gives Seattle an heir to Leon Washington as a kick returner.
(nsfw)
Earl Wolff, S, NC State
Wolff needs to polish up his game some, but he is one of the most impressive athletes in this draft. His 40 time and vertical jump were among the best in this safety class. A high risk, high upside player that is the perfect type of depth for Earl Thomas.
(skrillex)
Micah Hyde, CB, Iowa
Like a poor man's Dee Milliner, Micah Hyde is a corner that is simply good at everything. He has some character concerns that don't really mean much to me, but that's the only real knock against a guy that I believe deserves to be a 2nd or 3rd round pick. His situation reminds me a lot of Reshad Jones- one of my favorite DBs in 2010. I had a high 2nd round grade on Jones and was not so happy when Seattle repeatedly passed on him. He ended up being a late 5th round pick by the Dolphins and is now making pro-bowl snub lists as an impact strong safety.
Hyde has no business lasting this long, but if his place in the pecking order is any indication, he just might be. Hyde is 6'0", 195 pounds and runs in the 4.5's. He'd almost certainly be an upgrade over Jeremy Lane or Byron Maxwell if his game translates.
Cooper Taylor, S, Richmond
Taylor is a pretty rare specimen. You don't see very many white DBs. You don't see many 6'4", 220 pound safeties that can run in the 4.5s and play the position like a linebacker. Overlooked from a small school, Taylor is a high upside player that would be excellent competition for Jeron Johnson and Winston Guy in the big nickle 3rd safety slot.
Courtney Gardner, WR, Sierra College
With size (6'3", 220), moves and speed on par, or perhaps superior to, top 25 lock Cordarrelle Patterson, Gardner is an ultra high upside player in need of coaching and development.
Abry Jones, DT, Georgia
Jones stood out on film while I studied other Georgia Bulldog defenders entering this draft. In his last full season he had 4 sacks and 7 tackles for loss. Jones has the size to play the run well, and I could see him developing into Alan Branch 2.0, potentially allowing Seattle to avoid Branch's $3 million cap hit in 2014 from the contract I've signed him to.