http://www.bbc.com/travel/story/2021011 ... ws%2Fworld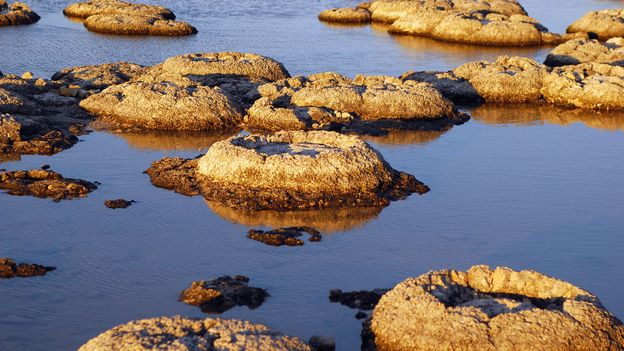 Stromatolites are living fossils and the oldest living lifeforms on our planet (Credit: MaXPdia/Getty Images)
Stromatolites are living fossils and the oldest living lifeforms on our planet. The name derives from the Greek, stroma, meaning "mattress", and lithos, meaning "rock". Stromatolite literally means "layered rock". The existence of these ancient rocks extends three-quarters of the way back to the origins of the Solar System.

With a citizen scientist's understanding, stromatolites are stony structures built by colonies of microscopic photosynthesising organisms called cyanobacteria. As sediment layered in shallow water, bacteria grew over it, binding the sedimentary particles and building layer upon millimetre layer until the layers became mounds. Their empire-building brought with it their most important role in Earth's history. They breathed. Using the sun to harness energy, they produced and built up the oxygen content of the Earth's atmosphere to about 20%, giving the kiss of life to all that was to evolve.
It's a travel article, actually, but with an interesting sidebar about biological history.